We all know that traveling with kids can be difficult, but there are ways to make family travel easier. For example - did you realize how much they change depending on their age? You might have a totally different list of must-see attractions for adults versus teens or preschoolers. Whether you have one kiddo or more than one child, this article will help you plan your next family trip so you don't feel overwhelmed by what to consider when packing.
1. Slow down
It can be fun to plan an entire trip together, but it's important to take care of all the details so that you're not rushing from one place to the next. Make sure to choose activities and destinations that will allow you to slow down and enjoy yourselves.
If something comes up that requires you to change your plans, make sure to be flexible, so you don't feel like the trip is ruined. By planning and taking things slow, you'll be able to have a wonderful time together without any stress. In the meantime, you can get your kids excited about the trip in advance.
2. Pack wisely
If you are getting ready to go on vacation but don't know what you should pack in your suitcases, it can be hard to know what to bring, especially if you have kids.
If you're traveling with kids, make sure to pack a small backpack for each of them. Fill it with a couple of elaborately wrapped new toys, lightweight books, and an extra change of clothes. Airlines often provide snacks for kids, but it's always good to have a few extra healthy snacks, just in case. So pack your backpack with goodies your kids will love!
Though some families prefer to go screen-free, which is totally admirable, others won't leave home without a digital device for each child with pre-loaded kid-appropriate content.
And don't forget wipes and hand sanitizer – you'll want to minimize germs as much as possible while on vacation.
Give older children a list of what to bring and let them pack their own bags.
Finally, think about packing lightly. It helps to be able to do laundry if you need to while on vacation. That way, you'll have more room in your suitcase for souvenirs!
3. Know what kinds of vitamins/supplements/medications you will need
When traveling to a new country with your kids, it's important to make sure you have read about which illnesses are common in the area. Some countries are malaria-prone so it would be important to research anti-malarial medications, and/or bring other supplies to mitigate transmission.
Whether you're traveling abroad or locally, it's a good idea to bring your usual vitamins, supplements, and immune boosters. No one wants to get sick while on vacation!
4. Do a roadmap and research your trip locations
Organizing your travel and researching before departing for your trip is essential for a safe and enjoyable journey.
By being aware of the dangers in the areas you will be visiting, you can take precautions to protect yourself and also minimize any negative experiences. In addition, learning about the local laws and customs will help you avoid any misunderstandings or trouble with the authorities. Taking the time to plan will ensure that your vacation is worry-free!
5. Limit your luggage
Again, when it comes to packing for a trip, remember that less is more. Restrict yourself to the essentials, and you'll save both time and room in your luggage. By packing fewer items, you'll also be less likely to forget something important.
One way to restrict what you pack is to think about the activities you'll be participating in during your trip. If you're going camping, for example, you'll need different items than if you're going to a big city. If you're not sure what to pack, do some research online or consult a travel guide.
6. Choose between vacation rental and family friendly hotels
When it comes to making the decision between a hotel and a vacation home, there are many factors to consider. One of the main things to think about is your family, as no one knows your kids better than you. Another factor to consider, which is highly dependent on the child's age, is if you have small children or school-age children, a hotel might be a better option if they provide services like babysitting and children's activities.
However, if your children are older or you are traveling with friends or extended family, a vacation home may be a better choice because you will have more space and privacy. Additionally, vacation homes can often be cheaper than hotels, especially if you are traveling in a group. Having a full kitchen means that you can prepare your own meals and save potentially lots of money this way.
7. Organize luggage appropriately
When packing for a flight with a young child, it is important to plan ahead and organize your luggage appropriately. This means packing the right items in the right bags. For example, you will need to pack some items in your carry-on bag, while others can be packed in your check-in luggage. (I always pack plastic bags in the very front pocket of my carry-on backpack in case of spillage or pukeage.)
Make sure you weigh your luggage to ensure that you are within the weight limits for both types of luggage. A luggage scale is a cheap and very useful item to have, so that you don't find yourself furiously repacking your suitcases at the ticket counter!
And remember, your car seat will be free to check.
Also, it's important to pack for the needs of the child. For example, for younger children still in diapers, you will need to pack diapers, wipes and other toiletries. You will also need to pack baby food and drinks and entertainment items such as books, a favorite blanket, toys or games. Older kids might not need to pack much beyond snacks and a digital device -- anything else they want, they can pack themselves.
8. Get to the airport early
Traveling by plane can be stressful, but it doesn't have to be. If you arrive at the airport early, you can take advantage of some of the amenities available to you. If you have lounge access, stop by for some snacks and drinks, to plug in your devices, and for a luxurious and relaxing time for all family members.
Then head to the gate and enjoy watching all the action around the airplane. This is an excellent opportunity for young toddlers to get excited about your trip before your flight. And don't forget to wave to the airline workers out on the tarmac - they might wave back!
9. Choose the right flights and seats
Flights and train journeys can be a fun experience for children, but it is important to choose the right flights and seats to make sure everyone has a good time, especially if the journey is more than a few hours.
For example, if you are traveling with young children, it might be a good idea to choose a flight that isn't red-eye so that they will be less cranky. On the other hand, if you feel confident that your children will fall asleep, a red-eye might make sense. Additionally, try to get window seats on trains so that your child has something to look at and won't get bored.
10. Get goodies and snacks in flight
Getting goodies in flight can be a lifesaver for restless kids. Almost every flight will have a few toys, stickers, and coloring sheets to help keep young kids amused. If your children are having trouble staying in their seats, be sure to ask for some of these goodies. They can provide a much-needed distraction and help make the flight a little more enjoyable.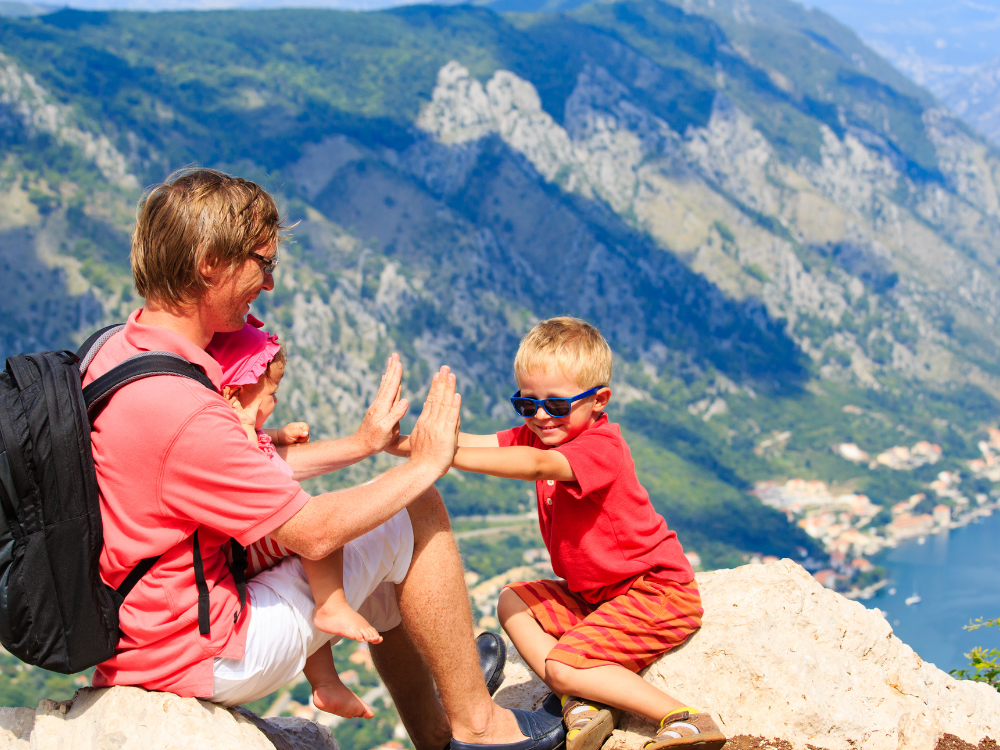 11. Keep their favorite snacks handy
When kids are bored, they can be hard to handle. When traveling with younger kids, it is important to keep their favorite snacks handy. This will help them have a lot of fun and stay happy, which will make traveling a lot easier for everyone.
Make sure to pack plenty of snacks the kids love, such as granola bars, fruit snacks, and juice boxes. If the young kids get hungry or cranky, you will be thankful for these snacks.
12. Take enough time off
When traveling with kids, it is most important to take enough breaks between each destination. This will help them to feel less rushed and more comfortable. Allowing them time to relax and explore will make them less likely to become fussy or whiny.
13. Have a family meeting
Taking a family vacation can be a wonderful experience, but it's important to ensure your children know what to expect. Explaining the trip in advance can help them get excited about it and avoid surprises.
Make sure to go over all the details, from the flight or drive to the destination to what you'll be doing once you get there. If your children have any questions, be sure to answer them as best you can. This will help them feel ready for the trip and excited about it.
When traveling with kids, consider these helpful items
If you're tired of being the designated carrier of All the Things on family trips, the Front Facing HipSeat Baby Carrier is perfect for you.
This innovative carrier allows your baby to view the world around them and provides them with a hefty dose of brain development. The 3-in-1 Ergonomic Baby Carrier is made from super soft fabric and is designed to be comfortable for you and your child. It can be used in three different ways, so you can find the one that works best for your child.
However, suppose you're preparing to travel with your baby or toddler, and they're still drinking breast milk, formula, or a combination of both. In that case, the Obersee Baby Bottle Cooler Bag is the perfect solution. The bag has a top carry handle, meaning you can wear it like a backpack and have your hands free to take care of your child. It's also insulated, so it will keep your baby's bottles cold for hours.
If you're looking for a way to make traveling with your little one a breeze, then you need the Portable Folding Baby Travel Bed with Mosquito Net Tent! This convenient bed can be set up in minutes and makes an excellent place for your child to sleep, play or relax.
The included mosquito net tent protects from pesky bugs, while the soft fabric and padding make it comfortable for the baby to rest. When not in use, the bed quickly folds into a compact size that can easily be carried along on your travels.
This adorable luggage set is perfect for traveling with older kids. It includes a cute animal-shaped suitcase and a matching backpack, which can help teach your child how to prepare themselves for vacation. The set is made from durable materials and is easy to carry, making it the perfect choice for any trip.
Inflatable Bathtub
With an inflatable bathtub, your child won't be able to slide around the hotel tub. If you're traveling with a small child, an inflatable bathtub can prevent them from sliding around the hotel tub. In some cases, if your hotel bathroom only has a shower, an inflatable bathtub can provide your child with a more comfortable bathing experience.
Shade for Baby's First Beach Trip
If you're planning on taking your little one to the beach for the first time, pack a pop-up tent. This will give them a shady spot to relax, play in the sand, and watch the people go by. It can also be an excellent place for them to take a nap in the afternoon.
Invest in a Lightweight and Comfy Travel Crib
When you're on the go with your little one, it's important to have a comfortable and safe place for them to sleep. Hotel cribs can often be unsanitary, so investing in a lightweight and comfy travel crib is a great way to ensure your baby gets the rest they need. Not only will this save you from uncomfortable hotel beds, but it'll also save you money in the long run since your baby will be more likely to sleep through the night in their own bed.
Wrapping Up
Whether you're taking a short trip or a long vacation, traveling with kids can be challenging. Making family travel easier can be as simple as being prepared and investing in the right gear. By following the tips above, you can make sure that your next trip is a success, no matter where you're headed.