With so many options on the market, it can be difficult to know how to choose the right inflatable stand up paddle board (iSUP) for you. You've come to the right place! In this guide, we will walk you through everything you need to know before making your purchase.
We'll start by discussing the different types of boards available on the market and what might be best for you. Then, we'll move on to the important factors you need to consider when choosing a board, such as size, weight capacity, and price. Finally, we'll give you some tips on how to take care of your new SUP and keep it in good condition for years to come!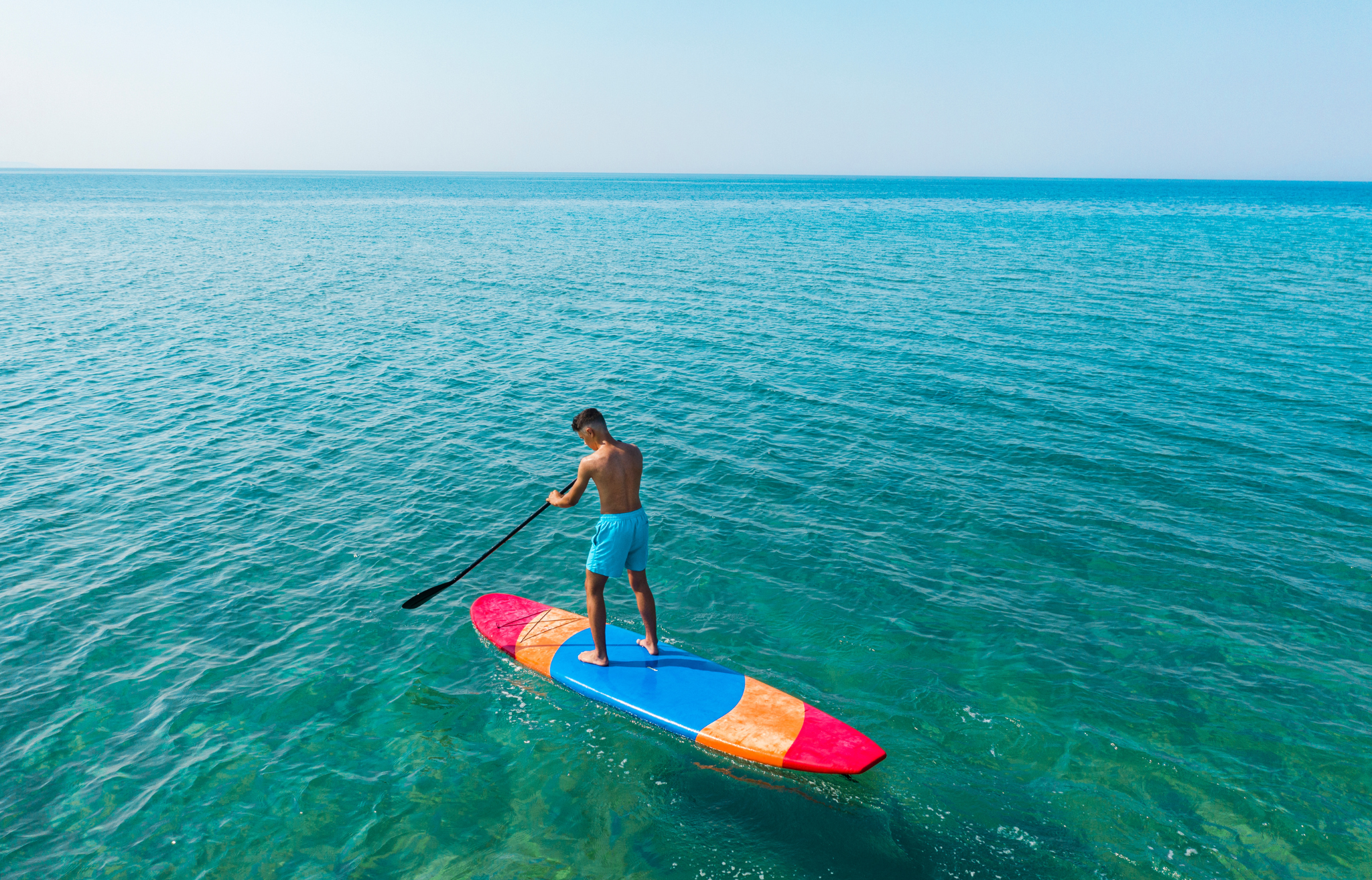 Types of Inflatable Paddle Boards
As you research the different types of inflatable stand up paddle boards on the market, you might find that some are better for specific activities than others. For example, if you plan on using your board for fishing, you might want to look for one that has a lot of storage space. Or, if you're looking for a board that you can use to surf some waves, you might want to get one that's a little thicker and more rigid.
Here are some of the different types of inflatable stand up paddle boards and what they're good for:
Touring Boards
Touring paddle boards are the larger, thicker and more stable cousins of the traditional surfboard-style paddle board. They're designed for extended-distance paddling and offer a more comfortable and efficient ride than thinner boards.
Most touring paddle boards also have a built-in deck pad and carry system that makes transporting your board a breeze, and often have a lot of storage space, making them ideal for camping trips or extended expeditions.
Racing Boards
If you're looking to get into paddle board racing, then a racing board is the right choice for you. Racing paddle boards are designed for use in races. They are typically longer and narrower than other types of paddle boards, which allows them to move through the water more quickly. They also have a pointed nose and a fin at the back, which help them to stay on course and move faster.
Racing paddle boards can be used for both flatwater and ocean racing. They are often ridden by racers who are looking for a board that is fast and efficient.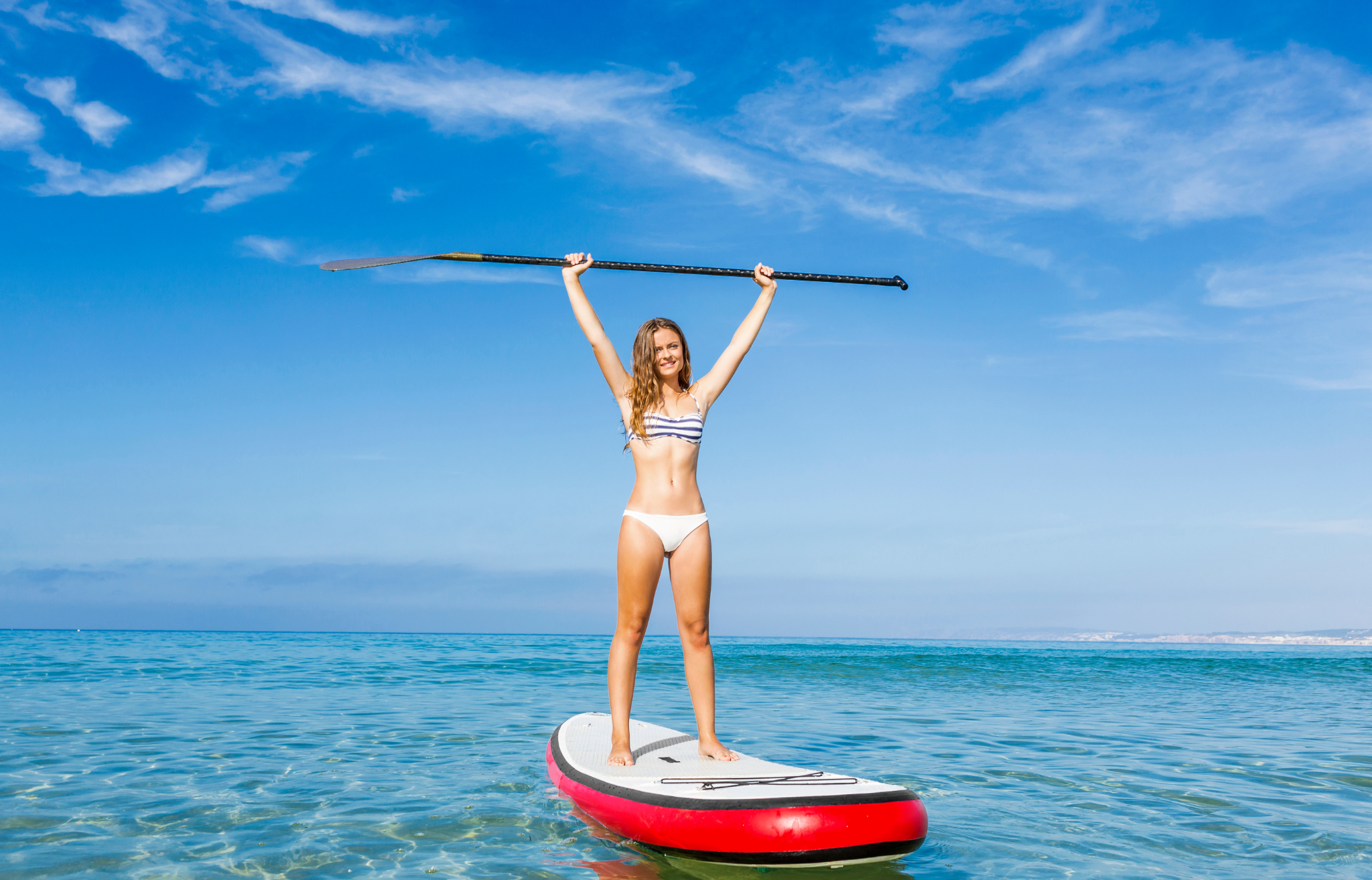 All-Around Boards
All-around paddle boards are perfect for beginners or those who want a board that can be used for a variety of activities, such as flat water paddling, surfing, and even whitewater rafting. They're typically wider and more stable than other types of SUPs, making them a good choice for beginner paddlers.
They're not as specialized as touring or racing paddle boards, but they're still versatile enough to be used in a number of settings.
Yoga Boards
Yoga paddle boards are a relatively new type of yoga prop that is designed to help you stabilize and balance while doing yoga poses on the water. They are essentially a large, flat board that you can stand on while performing poses, and they feature a strap system that helps you keep your balance while in motion.
Many people find yoga paddle boards to be helpful for improving their balance and stability, especially when it comes to balancing on one foot or in challenging poses. They can also be a lot of fun to use, and are perfect for doing yoga in conjunction with swimming or kayaking.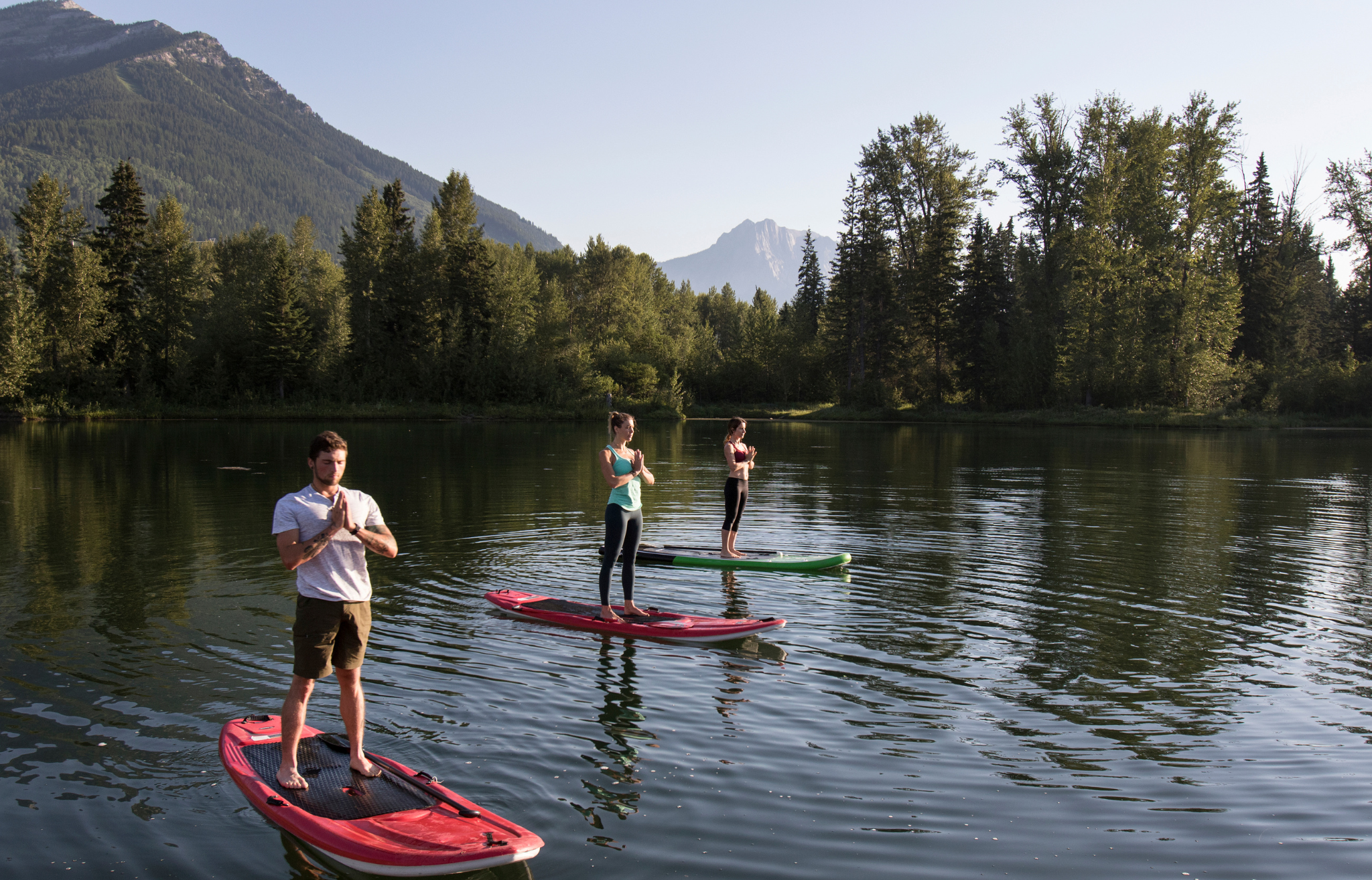 Surfing Boards
Surfing paddle boards are a recent development in the world of surfboards. They are large, wide boards that allow you to stand up and paddle with a large paddle. This gives you more speed and power when paddling out to waves, and makes it easier to stay on your board when you're taking on big waves.
These paddle boards can be used for surfing in smaller waves, or even for bodyboarding in bigger waves. Some people also use them as a way to get around on the water - they're great for paddling long distances and they're very stable so you don't have to worry about falling off.
Important Factors to Consider When Choosing an Inflatable Paddle Board
Size
One of the most important factors to consider when choosing an inflatable board is size. You'll want to make sure that the paddle board you select is long enough and wide enough to accommodate your height and weight.
If you're planning on using your paddle board for yoga or fitness, you may want to choose a wider option for greater stability. If you're just getting started, you may want to choose a smaller, lighter paddle board that's easier to transport and maneuver.
Length
When choosing an inflatable stand up paddle board, length is an important factor to consider. Paddle boards come in a range of lengths, from short boards (under 10') that are easy to maneuver and transport, to long boards (12' and above) that provide stability and tracking.
The right paddle board length for you will depend on your level of experience, the type of paddling you want to do, and the conditions you'll be paddling in.
If you're just getting started or are looking for a paddle board for your kid, a shorter board may be a good option. If you're looking to do long-distance paddling or paddle in windy or choppy conditions, a longer board will provide the stability you need. Medium boards strike a balance between maneuverability and stability. Ultimately, the best inflatable stand up paddle board for you will depend on your specific needs and preferences.
Weight Capacity
When choosing an inflatable stand up paddle board, weight capacity is an important factor to consider. Paddle boards are designed to support a certain amount of weight, and exceeding this limit can result in damage to the board or injury to the user. For example, a paddle board with a weight capacity of 200 pounds should not be used by someone who weighs more than 200 pounds.
In addition to considering your own weight, you should also factor in the weight of any gear you'll be bringing aboard. If you're planning on using your paddle board for fishing or camping, for instance, you'll need to account for the extra weight of your gear. By taking weight capacity into consideration, you can help ensure that you choose the right inflatable stand up paddle board for your needs.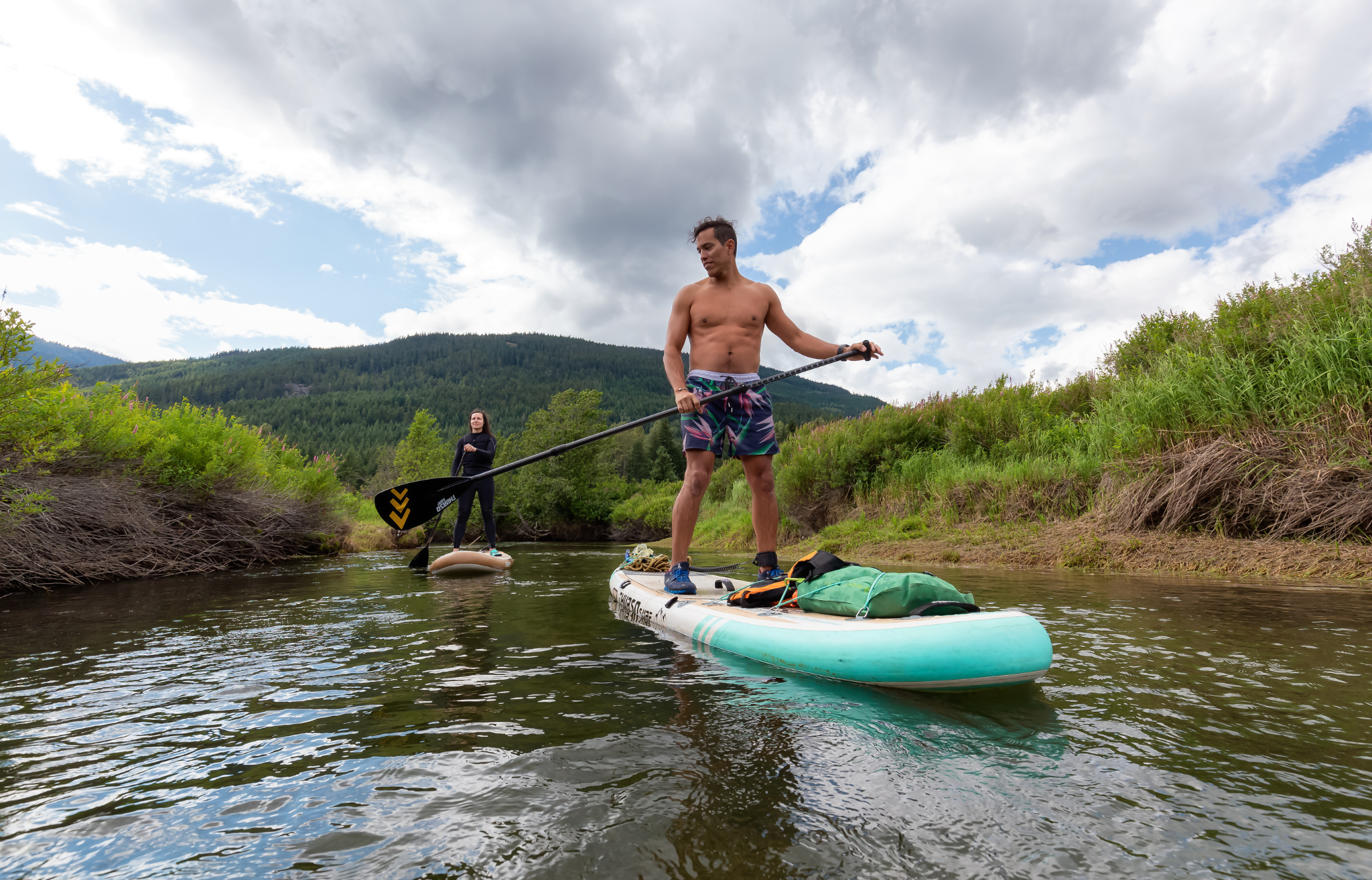 Inflation and Deflation
Another important consideration is how easy the paddle board is to inflate and deflate. Some boards come with an electric pump that does all the work for you, while others require a manual pump.
A manual pump is a great option if you're looking for something lightweight and easy to transport. However, an electric pump is a great option if you'd prefer something quick and easy to use. Consider how much time and effort you're willing to put into set-up and take down-before making your purchase.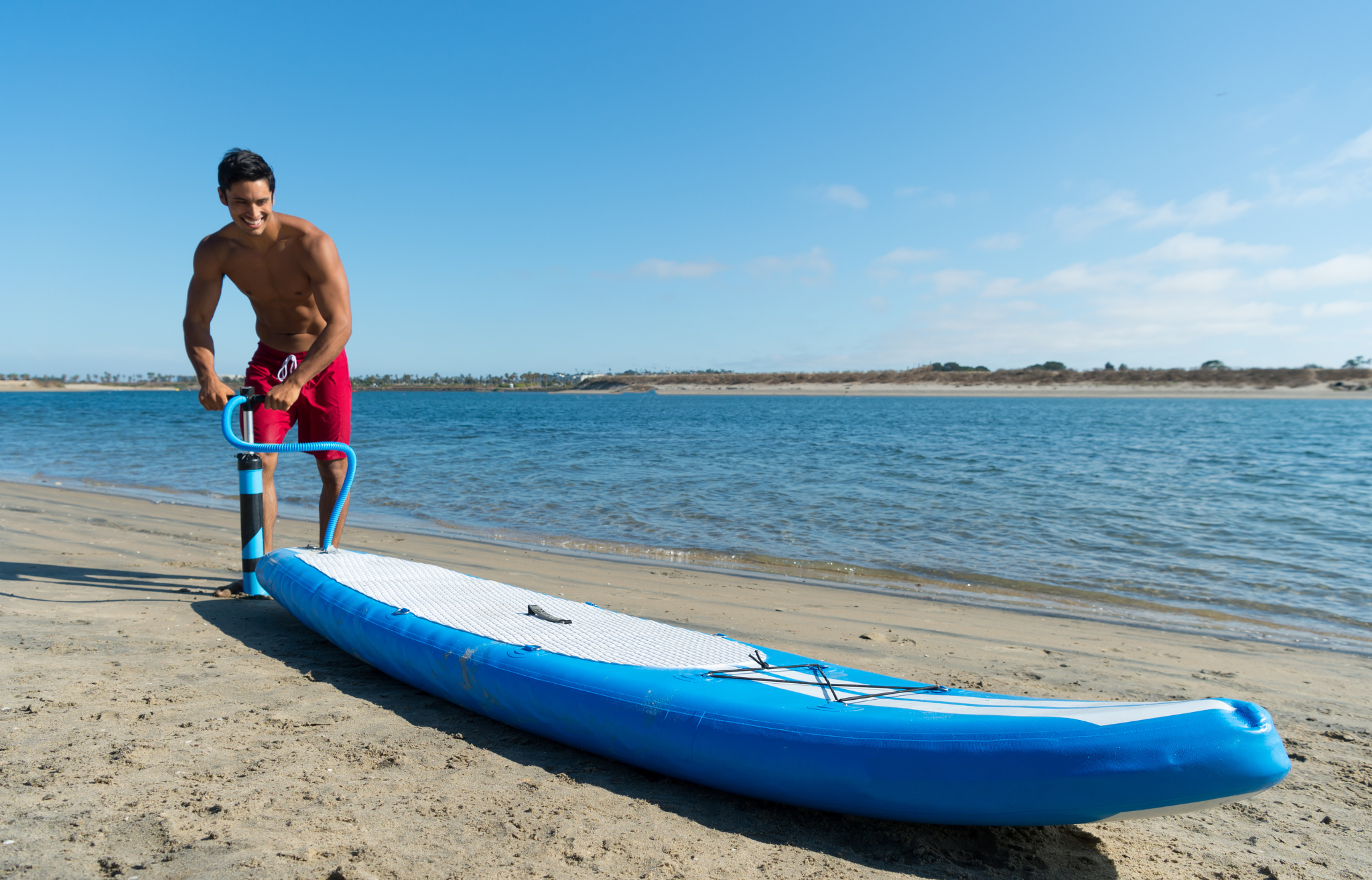 Durability and Warranty
When you're spending your hard-earned money on an inflatable paddle board, you want to be sure that it's a solid board that's going to last. That's why it's important to pay attention to the materials used in construction and the length of the warranty offered by the manufacturer.
For example, most inflatable paddle boards are made from PVC or polyester, but some high-end options may use carbon fiber or Kevlar for added durability. Most brands offer a one-year warranty, but some may extend that to two or three years for an additional cost.
Price
Price is definitely an important factor to consider. Stand up paddle boards can range in price from a few hundred dollars to over a thousand, so it's important to set a budget and stick to it. Inflatable paddle boards are generally more expensive than traditional paddle boards, but they offer a number of advantages, such as being more portable and easier to store.
If you're looking for the best value, it's important to compare prices and read customer reviews before making a purchase. With so many options on the market, there's no need to spend more than you have to in order to get a great paddle board.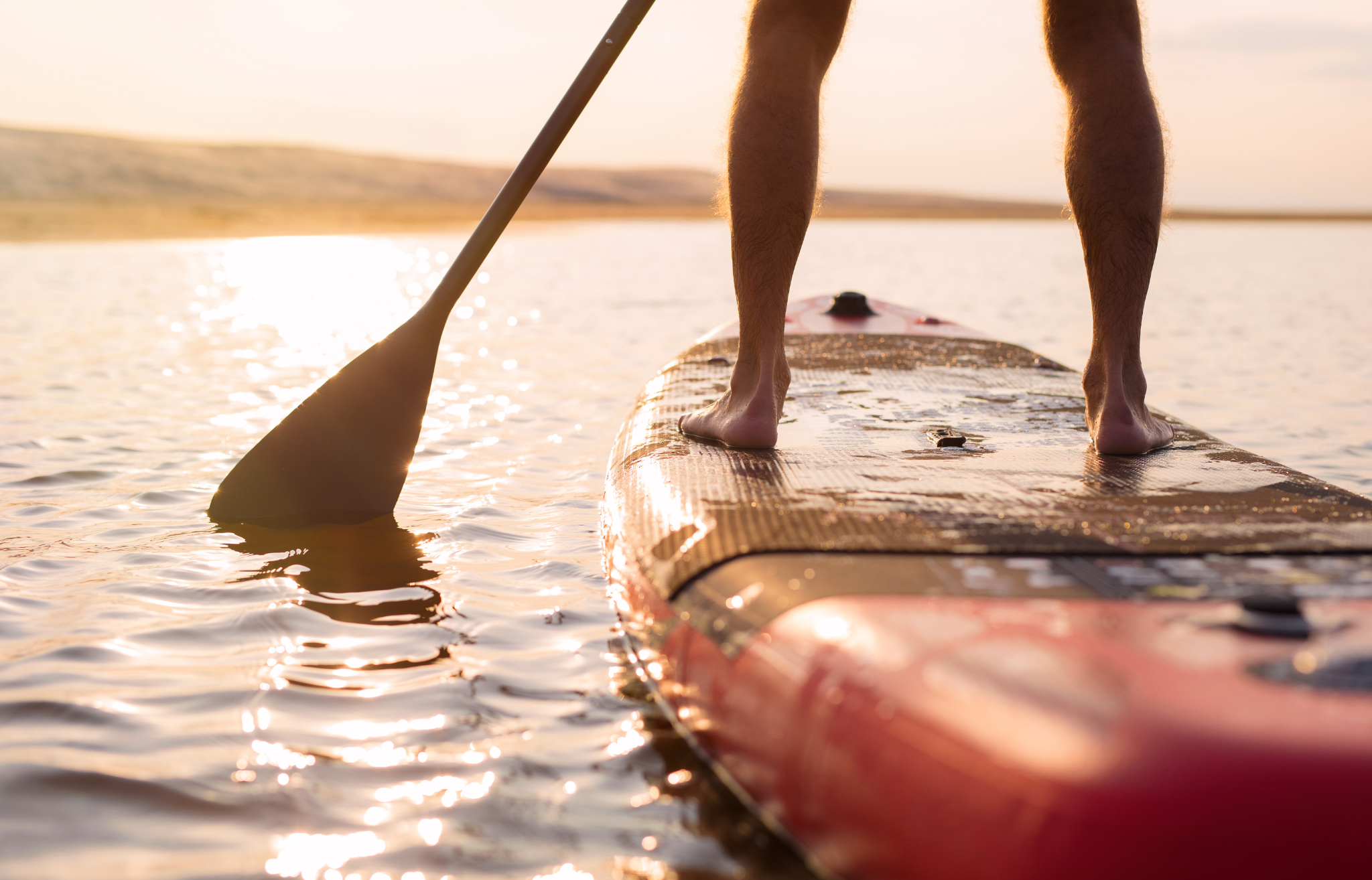 SUP Accessories
Once you've decided on the perfect inflatable stand up paddle board, don't forget to pick up any essential accessories!
Paddle
A paddle is one of the most important accessories for a stand up paddle board. It provides balance and stability while paddling, and can also be used to steer the board. Paddles come in a variety of shapes and sizes, and choosing the right paddle will depend on the type of board you have and your personal preferences.
For example, shorter paddles are better for maneuvering around tight corners, while longer paddles provide more power for longer journeys. Inflatable stand up paddle boards are becoming increasingly popular, as they are easy to transport and can be used in a variety of different environments. However, it is important to remember that an inflatable paddle board will require a different type of paddle than a traditional SUP.
Inflatable paddle boards typically have a shorter, wider shape, which means that they require a shorter and wider paddle. Choosing the right paddle is essential for enjoying your time on the water. With the right paddle, you'll be able to navigate through any adventure with ease.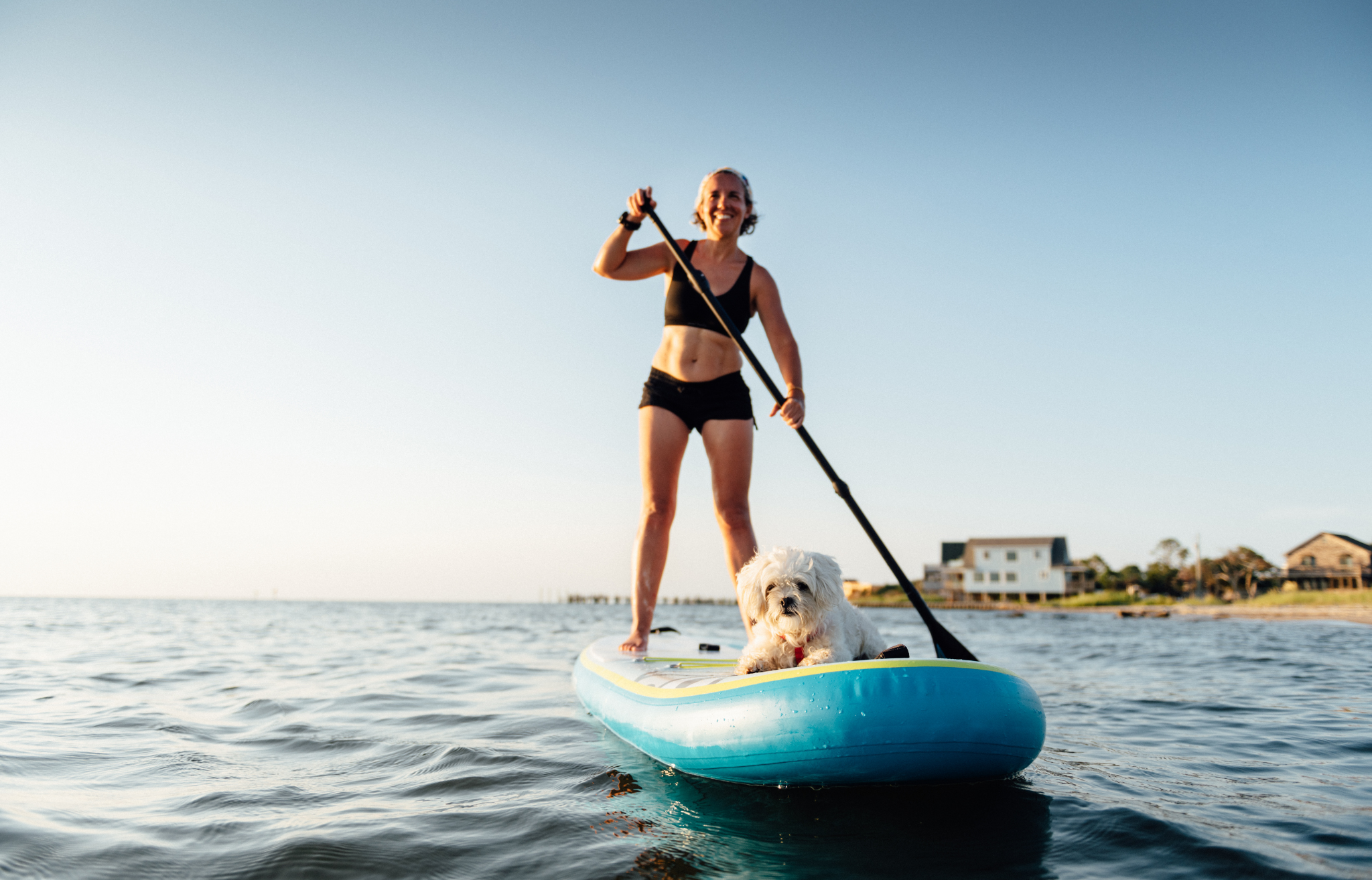 Life jacket
One of the most important safety accessories for paddle boarding is a life jacket or PFD (personal flotation device). A life jacket will help to keep you afloat if you fall in the water, and it can also provide some warmth in cold weather. If you're paddle boarding with your dog, you'll want to make sure s/he stay safe, too, with a pet flotation device, like this one.
PFDs are also required by law in some states, so it's important to know the laws in your area. Inflatable stand up paddle boards are a great option for those who want to enjoy the sport without having to worry about safety. With an inflatable board, you can simply roll up your board and life jacket and take them with you wherever you go.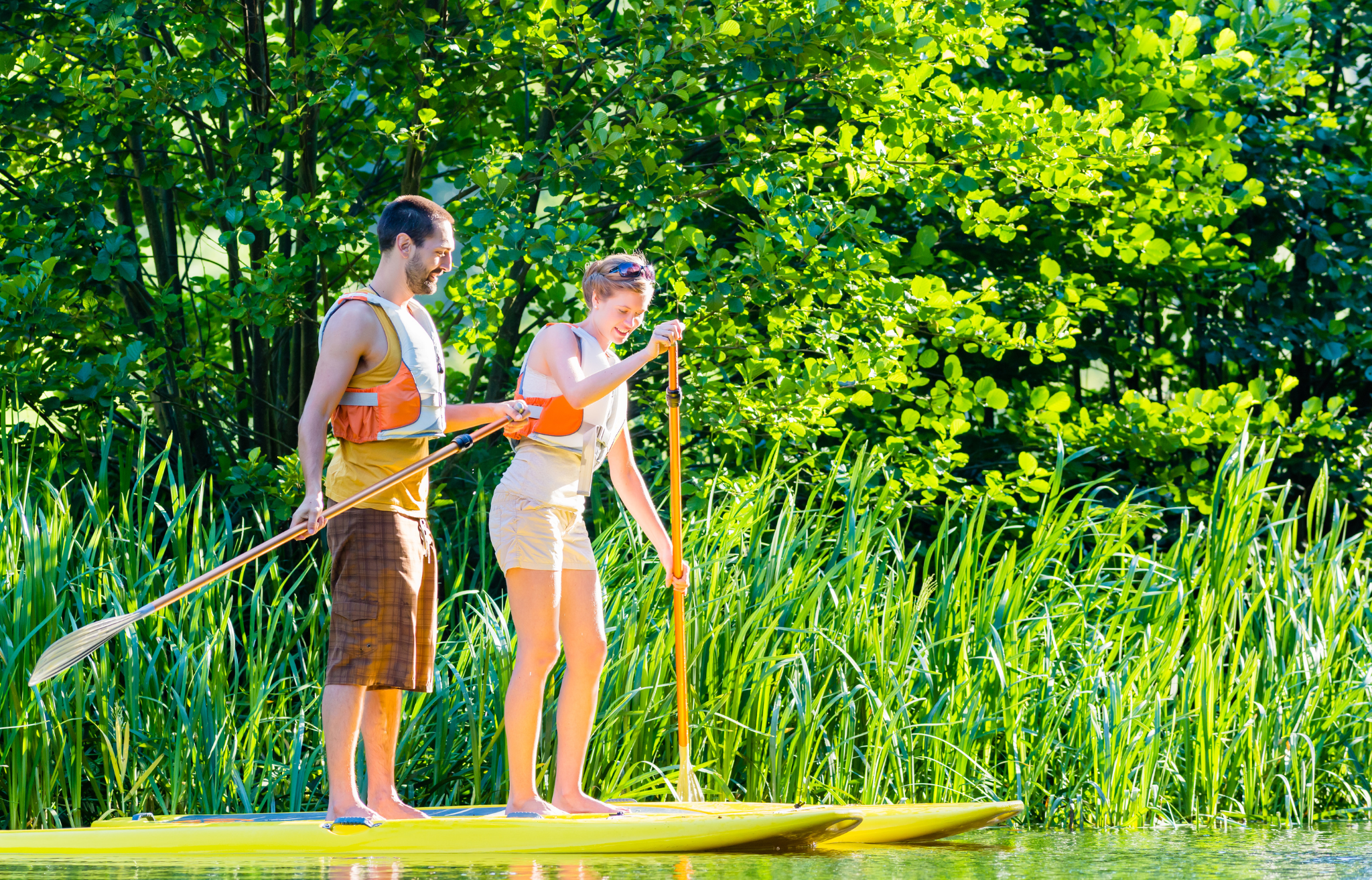 Leash
When you're out on the water, a SUP leash is an important accessory to help keep you safe. The leash attaches to your board and your ankle, so if you fall off, you're not at risk of losing your board completely. The leash also helps to keep you tethered to your board if strong winds start to blow or waves start to build - that way, you won't be separated from your only means of transportation back to shore!
Inflatable SUPs are especially prone to being blown away in high winds, so a good leash can be a lifesaver. Leashes are usually sold separately.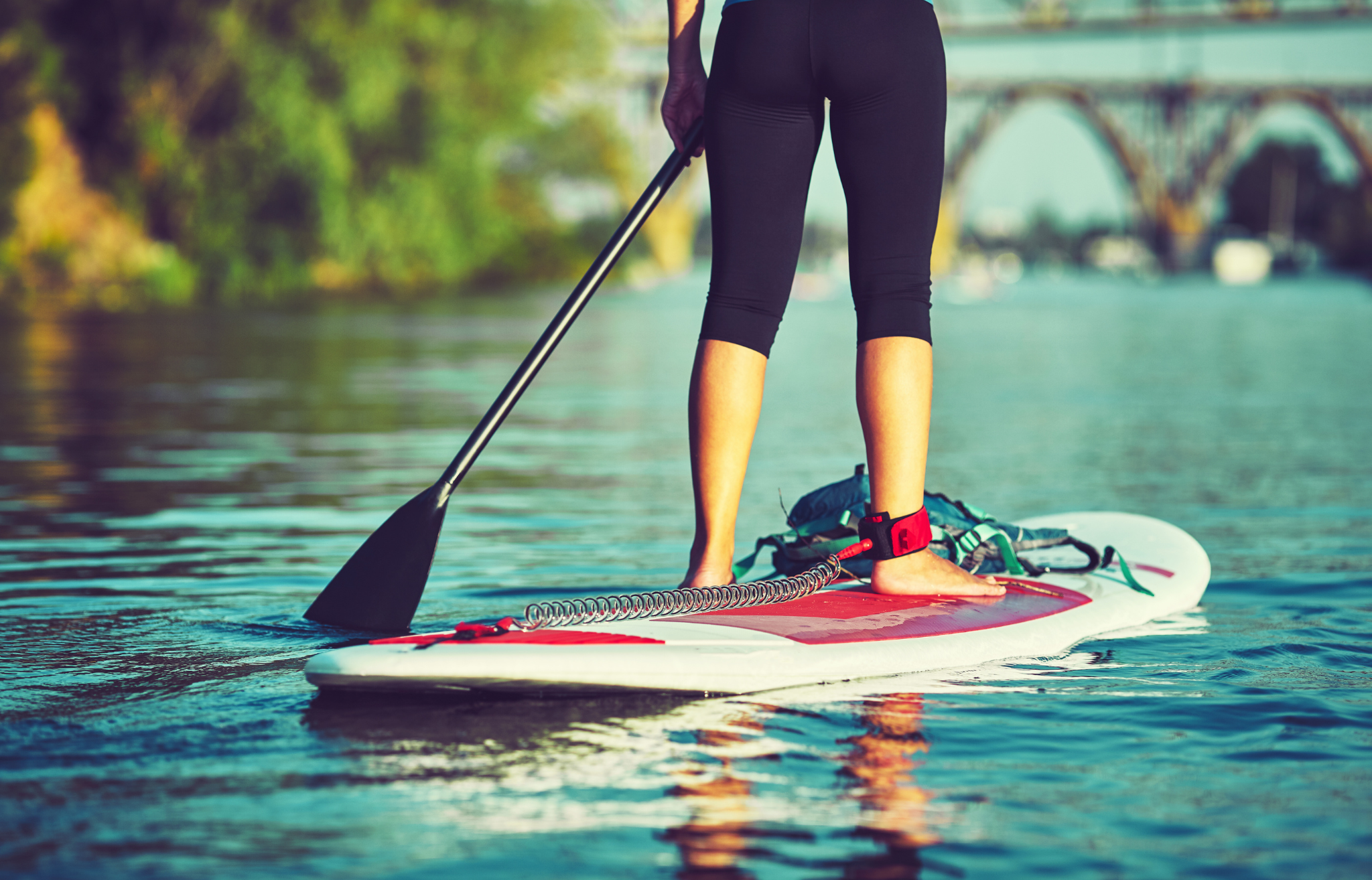 Kayak seat
While paddle boarding is traditionally done standing up, it can also be comfortable and enjoyable to sit down on the board. For this reason, a kayak seat is an important accessory for an inflatable stand up paddle board.
The seat provides support for your back and bottom, making it easier to paddle for long periods of time. In addition, the seat can be used as a place to store gear or snacks while you are out on the water.
Car rack
If you own an inflatable stand up paddle board, you might want to consider investing in a car rack. While some boards come with their own carrying case, a car rack provides a more convenient and durable way to transport your board. It also helps to keep your board from getting damaged during transit.
Most car racks are designed to attach to the roof of your vehicle, which keeps the board out of the way and makes it less likely to be damaged by other objects in the vehicle. Car racks also make it easier to load and unload your board, which can save you time and effort when you're getting ready for a day on the water.
Caring for your Inflatable Stand Up Paddle Board
Get to Know Your Paddle Board
The first step in taking care of your new stand up paddle board is getting to know it. Learn about the materials used in its construction and how to best care for them. Some boards are made with more durable materials than others, so it's important to read the manufacturer's recommendations.
Keep it Out of the Sun
One of the best ways to take care of your paddle board is to keep it out of the sun as much as possible. The sun can fade and damage the color of your board, and over time it can also cause the material to weaken and deteriorate. Store your board in a shady spot when you're not using it.
Clean It Regularly
Another important part of taking care of your paddle board is keeping it clean. Wash it down with fresh water after each use, and occasionally give it a more thorough cleaning with a mild soap or detergent. Be sure to rinse off all the soap before letting your board air dry.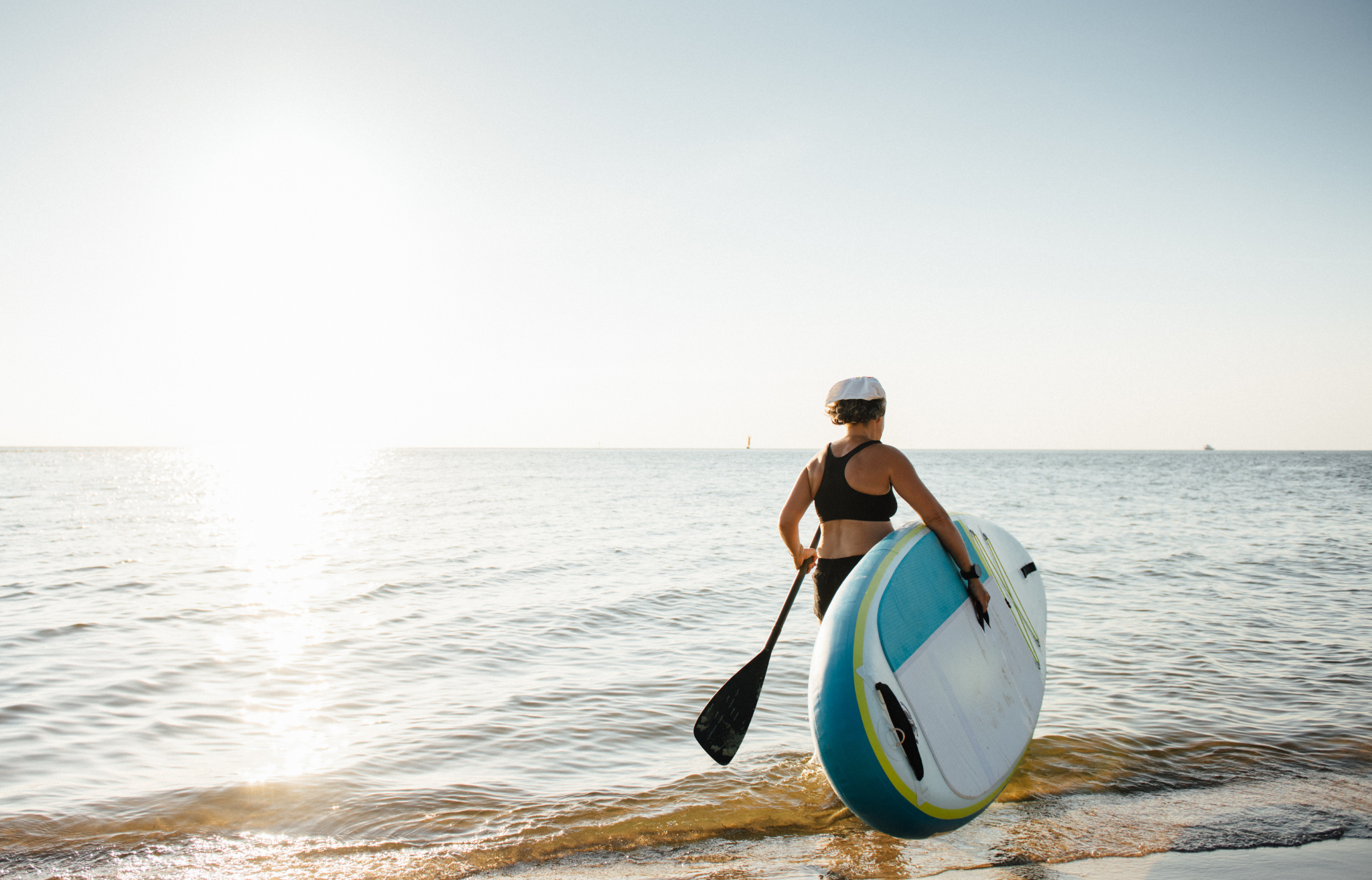 Don't Leave It in Wet Conditions
Leaving your inflatable SUP in wet conditions for long periods of time can cause corrosion and other damage. If you can't store your paddle board in a dry place, at least make sure to towel it off and allow it to air dry completely before putting it away.
Conclusion
Now that you know what to look for, it's time to start shopping for your perfect inflatable SUP! Keep these considerations in mind as you browse different models and brands so that you can hit the water with confidence knowing that you've got the right board for your needs. Be sure to check out Adventure Wise's boards here.
Happy paddling!